Taiwan in the WWW Song Contest Edit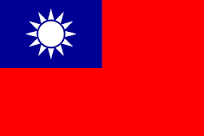 臺灣在萬維網歌唱大賽之歷年表現
This is an article about Taiwan (Republic of China)'s participation. For (People's Republic of) China's participation, see China in the WWW Song Contest
The Republic of China has participated five times—as Taiwan in the WWW Song Contest, debuting in Brussels for the 22nd contest. The participation then followed by a long absent after their disqualification from the 24th contest.
Later, Taiwan returned in the 35th contest with a new responsible representative and reached the final for the first time, sending ANN's self-composed song and finished in tie with the FYR Macedonia; both scoring 87 points. It remained as the best result for the island nation ever before it was surpassed by their representative for the 39th edition, Nick Chou.
Début & Participation History
Edit
Taiwan entered the contest with an upbeat song, 'Beep Beep Beep' by the country's one of the most prominent singers, Jeannie Hsieh, which she sung in four languages—Mandarin, Taiwanese, Cantonese, and English. Jeannie's self-written multi-language hit song only managed to collect 32 points, thus failed to qualify into the final.
For the next contest, Taiwan was represented by Singaporean twins who performed together in their duo band By2, which again performed an upbeat song; This time received 52 points, meaning they failed to qualify once again, but managed to reach the 14th place out of 19 in the Semi-Final and marked the second best Taiwanese results in the contest to date.
Third Taiwanese participation overshadowed the history of the country's participation by their disqualification for not voting in the Semi-Final. This time they sent an entry which was unlike the previous ones—sung by Taiwan-based Singaporean singer, Tanya Chua. Taiwan later absent in many editions, before returned to the 35th Contest with a new responsible representative.
Taiwan withdrew its entry for the 38th edition due to health issues concerning the Taiwanese player.
Nick Chou (39th and 40th) currently holds the record of the best scoring and the only artist to represent Taiwan twice consecutively, after he marked the Taiwanese delegations' best result in the 39th contest, beating the former marker ANN by only a single point. He is also the only Taiwanese representative to qualify into the Grand Final by Second Chance.
Taiwan is one of the countries that won the WWW Song Contest twice in a row and have one 2nd Place as two 3rd Places! Taiwan comes seven Times in the Top 15.
#55